PAR38 LED Spotlight Review
36W Asaqua Par38 aquarium lighting
LED Lighting, especially for reef aquariums and nature aquariums is definitely a step in the right direction, so I'm excited to be able to review another LED aquarium lighting option!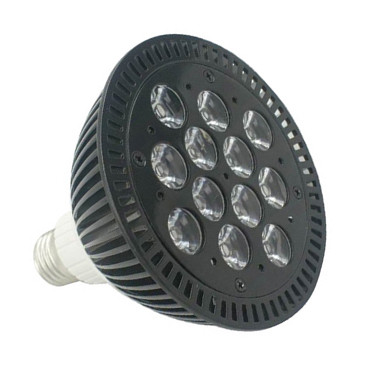 Asaqua-Par38-01 LED bulb is a PAR38 spotlight (PAR38 is a standard size light bulb, usually a floodlight style bulb) that contains five 3 watt Cree LEDs and drivers, for a total power consumption of 36 watts. however - this bulb is awesome. Available in 12,000k (2pcs Neutral White LEDs) and 4pcs 455nm deep blue LEDs, 2pcs 470nm Cool Blue LEDs ,2pcs 420nm UV Violet LEDs,1pcs 660nm Deep Red LED and 495nm1pcs Cyan 495nm.this LED spotlight is outfitted with 90 degree lenses for a tight, focused beam that casts about an 18" diameter circle of light when elevated about 3 feet from the floor.Spotlighting adds a very nice 'depth' effect to an aquarium.
The versatility of the PAR38 LED spotlight is another thing I love about this bulb. Because it screws into a regular light bulb socket and requires no active cooling, many (stylish!) options are available for mounting LED spotlights. Hanging, track lighting, wall mount, freestanding, the list goes on. The PAR38 spotlight(s) look especially nice over rimless aquariums, and are perfect for illuminating rimless nano cube tanks!
While operating, the PAR38 is definitely warm to the touch, but does not get too hot to touch in a room kept at 76F, and as I mentioned previously, requires no active cooling. The LEDs and electronics are surrounded by multiple aluminum fins that serve as a heatsink. The bulb is solidly constructed, with a black metal 'cap' protecting the heatsink fins.